Winter 1999
---
Wednesday 24th to Friday 26th, November
Due to the early times on Wednesday Donny (with camera) and I (Tomo) headed for The White Hart Inn at Broadoak. Figured it would be too dark to really surf at Boatyards and indeed it was barely light enough at Broadoak! Evenso (searching for the 50!) I paddled out onto the sand bank not knowing what sort of wave to expect. It was a 10m+ tide and the barometer was reading well low with strong south westerlies forecast for the end of the week. Oh and there was a fair amount of freshwater in the river and it was filling fast!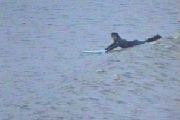 For the first time in a while, Donny caught on film a rideable wave right the way up over Jaqui's reef, and though it backed off before reaching me, a quick dash up the sandbank got me far enough ahead to catch a small but lovely clean face. The ride was the best part of 3/4 of a mile up towards the boulders by Garden Cliff at which point the wave again backed off in the deeper channel. When I had eventually tracked my way back to the main road, around numerous fields(!), I was relieved to find Donny waiting, saving me a 1/2 mile walk along the road back to the pub. The big problem with this stretch of the river is that you are guaranteed a long walk if you get a good ride!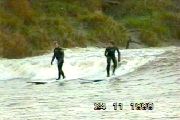 On up to Secrets we caught a dinghy sitting further down river but otherwise it was nice to have an empty river (for a change!).The dinghy was carrying a surfer (The Legendary Orange Beanie Man!) and we both picked up a three foot shoulder and rode it well round the bend (1/2 mile). The wave, against its character held its form all the way around the bend such that having the outside I was able to ride way out into the middle of the river. Probably as a good thing as a third surfer (unkown) who had drifted down river hopped on at the corner on the inside!
By the time we reached Over there was a fairly strong wind blowing up the river and it was quite choppy. The dinghy surfer failed to get on the wave in the middle of the river (not really surprising!) and although I was tucked in the right spot by the bank, I again took off at the wrong angle and went down the face on my butt to end up with a mouth full of highly distasteful water!! The wave still refused to carry through the bridge so it was all a bit in vain really!
Thursday morning I was joined at Boatyards by Matt and his mate, Phil, who had never surfed the bore before. Not exactly a very easy place to start! But he seemed game and fairly confident with minimal in tow! Standing on the sandbank we saw a lovely barrelling wave rush across the river right up past Awre and a guy who we regularly see walk out off the East sandbank caught the wave down towards the Pill and rode it right up towards us. He had a decent ride but sadly (as clockwork) the wave disappeared completely in the lagoon on the corner of the sandbank. In fact so much so that when we started paddling the river was totally flat! While the other guys stayed in towards the bank I went out ride to try and catch the shoulder. Good judgement found me drifting down to where the wave was rapidly drawing upto a four foot face, and I caught it clean. Matt and Phil had the wave section on them and while Matt hanged in there Phil rapidly became a goner and had to prepare for the long paddle back! Meanwhile I was shocked to find rather than sectioning I had an open face in front of me at such a steepness that I could turn into and trim across it. This was the first time I had ever been able to do this on the river - well stoked! After about 300m the face rapidly headed away towards the East bank across the rapids and I managed to cu back and stay with it joining Matt in the middle of a decent size bowl. We had a section over 5 feet break practically on top of us but managed to hang on, and surfing prone rode right across the lagoon, banking tightly left to try and connect with Jaqui's reef. However we fell just short and hit dry land the wrong side of the small spit. The paddle, well wade(!), back across the bank to the channel was the worst I have ever faced out there. The current was really pulling me back onto the sand and I knew that attempting to paddle would just jetison me back onto the sand. After much effort we finally made it to safety!

New surfer Liam also came out and had his first attempt deciding to go out, on our advice, in the Newnham straight. Sadly although there was a small wave, Liam failed to pick it up, but was pretty determined for more! So we piled boards up and headed onto Secrets.

(I think these pics really demonstrate the diversity on a single wave.)





With four of us in the water I thought it was going to be pretty tight as in October. I was also gravely concerned about how much the river had risen! (It affects the size of the wave far more up here than down below Newnham Nab) If four wasn't a squeeze, the dinghy showed up again and we now had five. Incredibly all of us picked it up, and on his second attempt Phil was up and riding well, sliding up the face behind Matt regularly. After about 400 yds though his board got flipped into the back of Matt who was promptly catapulted into me and we all became croppers! There must have been only about a space of 3 metres for five surfers.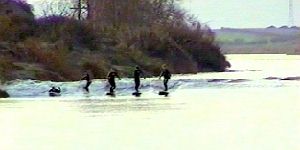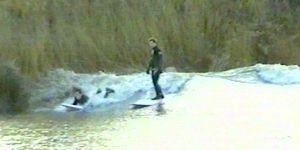 Liam meanwhile who had been tucked in on the white water (dangerously close to the bank) surfed prone around the corner with 'dinghy' man for the best part of half a mile. He was dead chuffed! But failed to make it to Over in time and in fact after we got out I learnt he had ended up on a mud bank, banged his head and dinghed the front of his board! Hey, the guy was totally unphased! Spot on. At Over Matt and I picked up the first ride there since May, up as far as the bridge where...guess what...it died!
On Friday I was joined by Dan, with his new (well second hand from the legendary PJ) 'Guts' mal. The wind as forecast was blowing a gale up the channel and the river was really choppy! I paddled down to Boats. alone leaving Danny on Jaqui's Reef, only to be joined by the guy from the East bank who had decided to track up the West bank instead.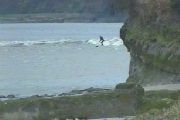 The wave coming towards us was a mess! You couldn't tell what was wave and what was wind chop on the river. So much so that when I did manage to decipher it and paddled into the face, I was projected straight into a wind wave in front of me, pushing my nose under and flipping me head over heel! The other guy fared slightly better riding about 100 metres. Danny paddled for his life into a small 1/2 foot wave off the bank only to pearl straight down as it washed over him!
At Secrets we were rejoined by Liam, up for another go, and the other guy. Dan was first to go - straight down. Followed by Liam washed up in the white water! I had to paddle really hard to get into a very choppy 3 foot face but made it and once on the wave wasn't to bad though you had to pump a bit over the chop. The other guy got on to and was hooting the whole way round the bend. Guess he hadn't surfed it up there for a while?
At Over it was a joke! The wind was appalling and the wave was totally discernible at the head of the bore. In fact it appeared there were two going in different directions! Dan caught one and went down (again!) while Liam caught the other and clung on for about 30 metres! Oh I caught nothing...and tragically this now left me on 49 rides for the year with only a faint glimmer of hope that December would be dry!

Thursday 23rd to Saturday 25th, December
The end of December arrived with some very flooded country lanes and even Gloucester was shut Xmas eve from the west due to the Highnam lake flooding! Undettered I went out on the hunt (with Donny and camera in tow!)
The tides were over 10 meters but througout the river there was just so much water. First attempt was Thursday morning at Secrets. I had just come off from three weeks of night shifts for Royal Mail and my body clock was not ticking the right way! Danny had turned up for another quick stab as part of his 3000 mile round trip Christmas surf'ari! We were sluggish as we rolled at Secrets and as I ambled over the bank for the second time with board in tow I was horrified to see a lovely 2-3 foot face rolling up the far bank only a couple of hundred yards down stream! No time for gloves...I just yelled to Danny, ditched my unhocked leash and hurled myself and board into the river, nearly losing it in the strong downstream freshwater flow. I paddled for my life only to watch it pass ten yards in front of me with no way of getting on! Gutted! As I swung round to paddle back I saw Danny crawling up the bank having leapt in although he had no realistic chance of making it! The poor guy was freezing. (No matter mate! We caught some awesome surf at Saunton after New Year!!)
On Day two I hoped to make it down to Boatyards on the off chance it would be working. There should have just been enough day light. But the next obstacle was my van's (Pegasus) reluctance to start, such that I had to resort to watching a mass of whitewater pass over the sandbank from the top of the hill! Fortunatley my trusty stead kicked in and I made to Secrets with enough time to paddle downstream to where the wave was peeling the previous morning. A nice (3 foot) face walled up just out from the bank (similar to Nov 98 but not as big) and peeled off with a lovely shoulder. But I was still 200 meters up stream at the time. I worked down towards it only to find as I turned around to paddle the wave just died underneath me and disappeared into the bank! That was that! And to make my day, Pegasus decided to blow his gearbox on the country lanes, leaving me a long(ish) walk to find a phone...

Christmas Day
This was it! The last chance to grab that elusive fiftieth wave. The river was really high at Newnham where I decided would be the best hope from the wave I saw from teh top of the hill on Xmas Eve. Donny kindly crawled out of bed and gave me a lift down.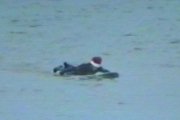 With santa hat to boot, I paddled out in to the river as what appeared to be a decent wall of whitewater pushed up from Boatyards. However, the river was so high that I could not stand on the sandbank as it was covered by strong flowing water, so it was a case of paddling or drifting. As I headed across the channel, I noticed the wave was dissipating on the channel side and heading across the lagoon towards the sandbank! With the choice of a possible 50 rides (but unlikely) against the likelihood of spending half the day on thr wrong side of the river when I got off, I decided to give it a miss, and paddled back resolute in the knowledge that 49 is a lucky (well prime??) number. After all it was Christmas Day!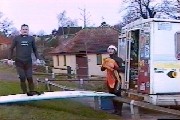 Who should turn up as I was getting out (on time again!) but Liam. This time he had decided to have a stab on his boogie board. I advised him that Secrets would probably be too weak but Rodley might be an option! I have since heard that Liam could not make it to Rodley as the road was flooded and so he headed for Secrets. Apparantly while sitting around, chattering away, Liam suddenly caught a ripple in the corner of his eye at the last minute only a few yards away. Guess that is what you call a wash out!

Well, that is the end of my first complete year out surfing the bore. It has been a great experience, and I have had lots of classic days, both alone with my thoughts and with the rest of the club and others from further afield! The day that will probably stand in my memory is Saturday 17th April when Danny and I leisurely rolled upto Newnham 5 minutes before the wave was due to find firstly that we could not park within 50 yards of the carpark. Then to my amazement as we turned the corner and caught site of the river, there were twenty odd surfers lined across the sand bank waiting for the wave to come! It was like the start of a race or something. But for a few moments every one of them was on the wave and most of them standing! That I think is what I love most when people come and experience the bore and have a good time - it's what it is all about, no matter how big or small the wave is.
And as for my attempted 50 rides I am now attempting 50 rides in 12 months, as I rode no bores in January 1998! So fingers crossed for January hey!
Happy millenium to anyone who makes it this far through this season's diary (I know i have rabbited on a bit) and hope to see you out on the river in 2000....