The bores this month were forecast relatively large, and reasonable conditions led to some decent waves at Boatyards, Secrets and a short ride at Over. The river was relatively quiet though the canoeists were out on force over the weekend at Newnham. Tomo enjoyed a solo evening ride down at Boatyards on Friday with a good 600 yd trip. In fact this spot seems to consistantly produce long rides, though you must be prepared to tackle both turbulant whitewater, a shallow stretch over the rapids and the prospect of a long paddle back over the river (as the wave moves towards the far bank!)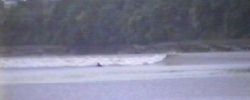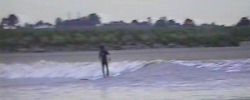 Over the weekend Tomo, Matt and Dave tackled some fun waves at Secrets and Over. For the first time both Matt and Dave managed to hook a lift with one of the speedboats that was out. This meant they finally got to see those stretches of the river we rarely see as they traveled right up to Over in the boats, hopping out occassionaly to attempt a ride. Unfortunately with a small tide, only a few waves were to be had including along The Mile Straight. At Over Tomo joined in too, having driven the van on up. It was a hilarious site watching both Dave and Tomo attempt to jump off the front of a speedboat onto the face of the wave. Neither succeeded and all three eventually came away from the morning with a few bruises and dings after some high powered speed boat racing!!! It was great of the speeders to pick the guys up and give them lifts though.
On Monday am, Tomo, Matt and Dave hooked up with a BBC2 Film crew putting together a segment for their Autumn series of Country Tracks. (Televised on 10th Sept) Dave put on a good display tucking into the shoulder at Secrets for the camera.
Dave's Surfing Sequence At Secret Break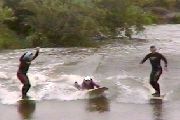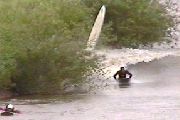 Matt took the presenter, Lindsay Cannon, out at Over to have a go. (She had surfed only once at Newquay) Lindsay rode a short distance on a clean face and was totally stoked and exhilarated afterwards. Tomo suffered a rather uncharacteristic wipe-out into the hedges, that looked quite amusing on film!